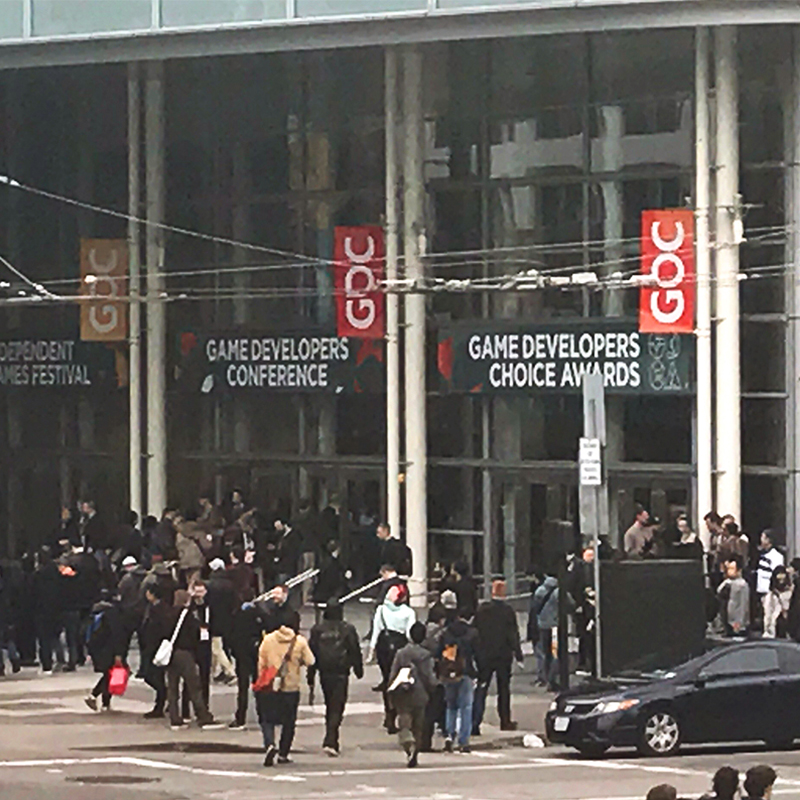 GDC 2018
March 18 – March 22, 2018
Just last week, I flew over to the west coast to attend this year's Game Developers Conference in San Francisco. As the world's biggest conference for video game developers, GDC caters to a wide range of audiences with the various experiences it offers: from the hustle-bustling Expo floor where the companies show off their products, to the more intimate conference talks by the industry's leading professionals. I personally opted for the Summits Pass, which allowed me to attend cutting-edge workshops instructed by some of my favourite game designers and explore the Expo jungle full of fun activities (and people, of course).
Looking back, the whole experience feels like a giant quest, one through which I matured as a game designer. It has expanded my horizon, both externally and internally. Having just entered the video game scene back in last September, I feel like a fresh fish in this ocean of knowledge. There was a lot of unanswered questions floating inside my head.
Fortunately, I was able to have most of these answered through attending workshops, talks, and engaging with people in general. Like a sponge, I absorbed as much information as I could, which allowed me to paint a vivid picture of the current technological, economical, social, and cultural state of the industry. As a result, the experience had a profound rippling effect on me, encouraging me to reflect deeply on myself.
Extrospection
The first day of the Expo started with a presentation by Epic Games on the current state of their Unreal game engine. The talk showcased a number of live demos to illustrate its technological achievements in real time raytracing, including short clips of Star Wars and Andy Serkis's brilliant acting for Shakespeare's infamous Macbeth. This was all rendered in real time by Nvidia's latest GPU processor. To everyone's surprise, the demos were very convincing, letting the audience a glimpse of how video games of the future would be experienced without the need for pre-rendering. This entails a lot of possibilities – the game can be experienced at its finished quality throughout its development process, for example. This is truly a breakthrough not just for the video game sector, but for the entertainment industry in general.
Another topic that resonated throughout the conference was the virtualization of identity. In Andy Serkis's demo, the speaker pondered on the possibility of a day in the near future when Andy may act with the appearance that he has today. Or, he may even choose to take on an entirely new avatar – an alien for example – with every inch of his facial movements being directly mapped onto the virtual counterpart.
While gaining awareness of the latest technology was good in its own rights, the day took a turn during a panel talk featuring video game developers from developing countries across the globe. It started off with the curator discussing the difficulties he faced in organizing the event in the first place. He noted that out of the five original speakers that were invited, three of them were rejected entrance visa into the US. Then, out of the three additional backup speakers that were invited, two were rejected once again. It goes on.
Despite these challenges, the final panel of speakers were well represented across different continents, coming from countries such as Colombia, Lebanon, and Madagascar.
The most compelling moment was when a world map was revealed mapping GDC attendees' ethnic origins. It showed a polarized distribution across only a handful of countries, separated by unapologetic white spaces. This notion of under representation were further echoed throughout speakers' stories, in how they each encountered, fought, and overcame the adversity in pursuing their dream of making games. The basic amenities and infrastructure that we take for granted, such as the Internet, are inaccessible privileges in certain countries. To give you an idea, the internet network is so slow throughout the day in Beirut that the developers had to intentionally work in the evening when the traffic was less busy. At the end of the talk, everyone stood up to applaud. It was a moment when I felt that the audience was inspired and united as a community, a moment that best reflected the essence of the conference: inclusion.
Speaking of communities, I attended a number of workshops and round table sessions where I met fellow students as well as industry veterans. During the Game Design Workshop hosted by Matthew Stone, an ETC alumni, we were put into groups to design a paper prototype based on the said topic. I was surprised to see how cooperative everyone was, despite one's level of expertise or experience. During the exercise, I learned a ton from the wealth of knowledge and insight that experts brought to the table, and had a lot of fun doing it.
Outside the rooms, I engaged with people on a more personal level. What GDC is to the video game industry is kind of like what the Red Carpet is for the film industry. You can expect to regularly come across familiar faces of your favourite celebrities in the industry, most of which you have only seen in pictures or videos. I have had the chance to talk with the lead environment / level designer on The Last of Us, the senior quest designer on Horizon Zero Dawn, and the game designer of INSIDE, one of my favourite video games of all time.
I first messaged Peter Buchardt a few weeks prior to the conference, asking if he would be willing to grab a coffee with me in his spare time. He kindly accepted, and we met for lunch on the second day of the conference (He even bought me lunch!). Although we were complete strangers, he openly shared his personal journey as a game designer, both the good and the bad. He gladly offered me advices on how to advance my career as an aspiring game designer, encouraging me to develop a resilient habit of making while drawing inspirations from personal interests – architecture in my case. He took me by surprise, asking me blatantly, "What is your philosophy in game design?" I could not give a clear answer.
Introspection
There is a saying that understanding oneself is the most difficult challenge in life. I struggled with this especially after graduating from architecture school, which has pointed me in the direction of game design. Now that I am here, I am beginning to realize that the field of game design is even broader than architecture, and that I am equally, if not more, struggling with grappling my place in this cosmos.
My dad once told me that the necessary step in understanding yourself is to first acknowledge that you cannot fully do so. "Being in touch with one's subconscious is a lifelong task," he said.
Throughout my career as a designer, one of the thing I learned first was to admit that there is no such thing as inner originality. For me, designing has always been about seeking guidance and inspiration externally, from other designers such as Peter.
Currently, I can say with some confidence that I am interested in game and level design, largely influenced by my background in architecture. At the GDC, there were two presentations that were particularly memorable in this regard. The first, entitled "Designing for Non Linear Story Discovery in 'Tacoma,'" from the game's level designer, Nina Freeman, and the second, entitled "'Gorogoa': The Design of a Cosmic Acrostic" from the game's designer, Jason Roberts.
As a big fan of Fullbright Company's work in environmental storytelling, I went into the talk expecting to learn about the secrets of their design approach. To my surprise, Nina openly admitted that she had no prior experience with 3D level design coming into the project. Instead, she went step by step to describe her learning process in this new design space while the project was progressing. She went on further to reveal that her year's worth of work had to be completely scrapped due to the flaws and mistakes. "Of course, I would not have learned anything if I got it right the first time," she joked, smiling.
After the talk, I met Nina on the Expo floor. Having designed an interactive narrative game myself, I was particularly interested in how she dealt with the dependency issues between the writing, the dialogue, the animations, and the level design. The answer was simple: just lock everything down early on, and commit to them. At first glance, this seemed a rather rigid approach. But as I listened on further, I realized that she meant nailing down the core aspects early in the design process to allow the team to navigate through production while minimizing redundancy and design changes.
In this way, not only was the game non-linear, but also the whole development process as well. The team members were able to progress their individual work in parallel without compromising one another. Nina described this model as a mobius cycle where the Setting, the Spaces, the Story, and the Progression of the project were feeding into one another simultaneously.
Closing Words
All in all, the Game Developers Conference was an extremely enriching experience. If I were given the chance to attend it again, I most certainly would. I would also recommend it to anyone else who are interested in video games. Just go.
In meeting interesting people from the industry and hearing their variegated experiences first hand, I gained a wealth of knowledge and insight about the industry and also about myself. At the same time, I had a ton of fun. After all, that's what matters, right?