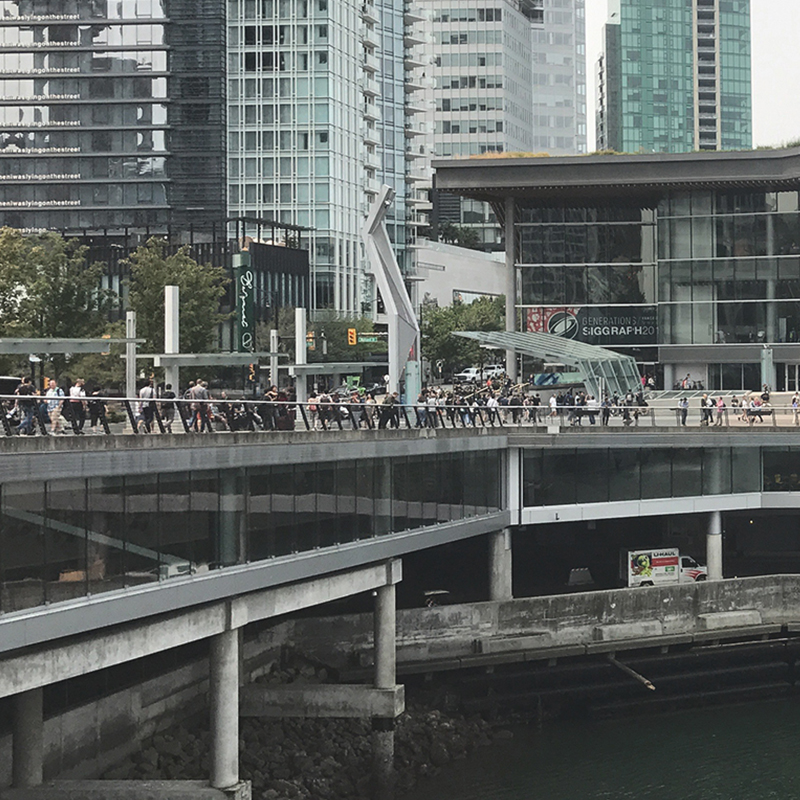 SIGGRAPH 2018
August 11 – August 16, 2018
Back in January, I sent in my application for a Student Volunteer position at this year's Siggraph, with the hopes of expanding my horizon beyond games into the closely-related VFX, Film, and Animation industries. However, unlike games, Siggraph and the majority of its audience are heavily tech-oriented, so it was a great opportunity for me to get a peek of the latest applications of augmented and virtual reality platforms. Also, volunteering in general seemed like a noble way to contribute to the program, and to meet and network with industry peers and professionals alike.
Of course, being a Student Volunteer meant only a small portion of my attendance could be reserved for actually consuming the contents of the conference. Moreover, the constantly shifting schedule demanded further flexibility on my part, having to forgo some sessions at times. However, I can point to a few presentations I was fortunate enough to attend and that I thought were quite interesting.
During the production session entitled "The Three Keys to Unlocking Ready Player One," the speaker gave an in-depth tour of the production processes and techniques involved in the movie directed by Steven Spielberg. I was surprised to find out that the production team, including the director himself, actively incorporated virtual reality at every stage of its production, from planning, rehearsing, and shooting to compositing, incorporating special effects, and editing in general. It was interesting to see Steven direct in a different manner to that of traditional film making, where he was commenting on the camera angles, acting, animations, and the overall staging of scenes in virtual reality. All in real time. Furthermore, the use of mutli-user scene editing in the engine seemed to offer many potentials in making the production process more interactive and inclusive, in contrary to the current model where the team members are usually working in isolation.
On the other hand, I also sat into a presentation that seemed quite unorthodox to those usually found in conferences. The session was entitled "Real Time Live," where six selected teams perform live demos of their cutting-edge technology and applications that are both inspiring and entertaining. The project Bebylon, which showcases a live performance of real time motion capture remapping, where the adult speaker's facial expressions and bodily gestures were remapped onto a virtual baby on screen. An another team developed a mobile application for translating a 2D sketch into a fully-animated 3D character using object recognition and machine learning. At the end, the audience was asked to vote for the team with the best show, which was a nice touch.
In overall, I took away many things from this experience. Seeing the behind-the-scene breakdowns of VFX production workflows and techniques were both informative and inspiring. Also, getting the chance to try out the emerging technologies and virtual / augmented reality contents that I would otherwise have no access to was an eye-opening privilege, such as Square Enix's undisclosed VR manga, or the Limbic Chair used as hands-free navigational "interface" for flying in virtual reality. Having had no prior volunteering experience, working alongside peers and professionals also allowed me to exercise my interpersonal and networking skills outside of my comfort zone.
To anyone coming from a highly technical background or other relevant industry, I would highly recommend them to attend the conference. However, as a Student Volunteer, it is rather difficult to enjoy the conference in its entirety as the schedules are very limited and unpredictable. There were a few days where I literally had no available time outside of volunteering. Also, I would definitely not recommend getting an exhibits-only pass as the perks are rather limited and the Exhibition Hall and the Job Fair section were rather disappointing. Instead, get an all-conference pass if you can. 
Oh, and here's a picture of a beach in Vancouver 😉