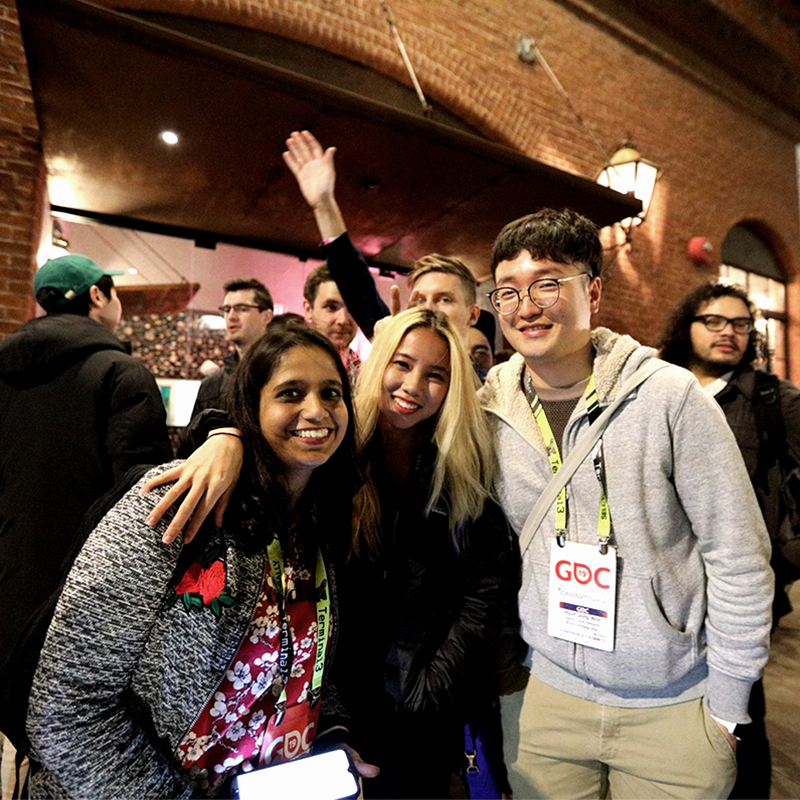 GDC 2019
Innovation with Impact Poster @ Carnegie Mellon University: Click Here
March 18 ~ March 22, 2019 – Game Developers Conference 2019 (@San Francisco, CA)
Earlier this past March, I stayed in the Green Tortoise Hostel in downtown San Francisco to attend the annual Game Developer's Conference. Considering that I was already based in the Bay area for my Co-op semester, and the remaining balance of my conference funds that was soon to expire with my upcoming graduation in May, I figured I'd give a second shot at the event especially now that I had more experience with game development and a substantial social media presence on Twitter interacting with other game developers and designers. In contrast to last year, I also thought it would be a good chance for me to test out the waters of the gamedev community in San Francisco, and to see where I stand with regards to the video game industry.
Having decided to splurge what remains of my conference funds on a Summit & Conference Pass, I spent the majority of my day time sitting into talks and presentations primarily focused on game and level design. There were many interesting talks (in fact, too many for one's own good), but I found the following three to be most memorable: the first being the God of War's Level Design workshop by the lead level designer Rob Davis, the second being from the developers of the much-acclaimed survival games Frostpunk and This War of Mine, and the last being from Chris Remo, game designer and composer who worked on narrative walking simulator Firewatch at Campo Santo, which was eventually acquired by Valve.
Beyond the fact it was a talk about level design (which was my favourite game design topic), I was especially excited for Rob's talk, as I've corresponded with him through a job interview for Santa Monica Studio and through Twitter earlier in the year. During the winter break in January, I spent a week or two playing through the game God of War (2018) and analyzing its level design in preparation for the interview process. Initially, I posted my design analysis articles on Twitter without much thought, however soon afterwards my tweets were retweeted by Santa Monica Studio's Twitter account among many others, and suddenly I was receiving a lot of attention on social media. This was the first time I truly realized how important social media is in networking and self-promotion, especially in tightly-knit communities of the video game industry.
Partially excited about how my design interpretations measured up to Rob's own, I squeezed my way through the densely-populated seats and sat down. Once the talk started, I was delighted to see that he picked one of my favourite levels in the game: Thamur's Corpse. In contrast to my own analysis, however, Rob's presentation (https://www.gdcvault.com/play/1025880/Level-Design-Workshop-The-Level) focused more on methodically breaking down the design patterns that permeated through the entire game, and how this framework helped the team to design and iterate the level through all its complexities and depth. The design approach seemed almost too simple, almost self-evident, however it goes to show that design depth and multi-layering of gameplay cannot simply be planned in advance until the necessary steps are taken to get there. As a designer who plans, and literally draws plans of levels, this approach seemed enlightening, and almost, strangely, reassuring. Later that night, I attended the level designers' mixer, primarily composed of the workshop speakers and their friends. I've met many new people, and many that I've interacted with or been following on Twitter. For the first time in my experience attending these networking events, I felt like I was truly part of a community, surrounded by people who shared the same passion for level design.
On the third day of the presentation, I sat into a talk by the developers from 11 Bit Studio, the makers of Frostpunk and This War of Mine (https://www.gdcvault.com/play/1025741/Why-Make-Games-Lessons-from). Although I was not quite familiar with Frostpunk at the time, I was interested to hear their answer to their own title question: Why Make Games? The presentation primarily consisted of the two developers breaking down the design process behind the two games, one focused on articulating the aesthetics and the mood of the games, while the other focused more on crafting emergent, meaningful gameplay. Although the topics themselves weren't really all that original, there was something in their attitude and tone that felt truly sincere. It felt almost as though they were empathizing with the desolate, post-apocalyptic world that they've created, in a way that felt genuinely humane and melancholic. During the presentation, one of the developers asked a rhetorical question, "If we imagined that our kids, the next generation, are going to be playing our games, what messages do we want to leave behind? How can we express meaningful lessons through the experience, ones that can have a profound impact on the players?"
As I was listening to this question, a memory popped up in my mind. It was the time when I was playing through This War of Mine, when I was desperately scavenging for food and resources by exploring and infiltrating others' properties. Normally, I'd expect some level of hostility and resistance from the existing occupants; after all, everyone was fighting for their own lives in this post-apocalyptic setting. That was, until I came across a house. In comparison to other properties, the house had an abnormally simple layout – no traps, hostile dwellers, no signs of any danger. There were goods and resources to be found everywhere, and I thought I'd hit a jackpot, when I was suddenly frozen by the sight of a near-blind, elderly couple sitting in the living room. Of course, they can say things in revolt, however they had no real physical power to defend themselves, and soon after, they started to beg. At this point, I wasn't doing so well in the game; my people were at the brink of starvation, and some of them even started getting sick. There was a short supply of fresh water, and the fuel for fire was nearly exhausted. At the end, I chose to steal whatever I could find, knowing full well what will happen to the old couple. Just moments afterwards, I could feel in my conscience a deep sense of guilt, of regret. Likewise, although my people had plenty of resources, they were seriously depressed, and on the following day, one of them committed suicide. I immediately related to what the speaker was talking about.
Attending a professional conference for five days straight is mentally exhausting, so by the last day, I was just jumping from talk to talk, without a fixed schedule. I walked into Chris Remo's talk on narrative design for Firewatch (https://www.gdcvault.com/play/1026087/Interactive-Story-Without-Challenge-Mechanics), where he first talked about the design process in building the contiguous world map of the game, and eventually went into detail about the design strategies that he used to mold important story beats into memorable gameplay moments by toning down explicit cues and clues that typically handhold the player through the experience, and hence encouraging player agency.
He also talked about how they've went about designing a system that kept track of the player's choices throughout the game, which were resurfaced to the player throughout the game. In narrative-based games, it is these little attentions to details that make the player to feel like their actions are acknowledged by the game world and their choices meaningful to game story. While widely-branching narrative games are virtuous on their own right, I learned that subtle, and what otherwise can be considered insignificant narrative situations can arouse the player with delightful moments throughout the experience.
Overall, this year's GDC for me was a great opportunity to self-reflect on my own identity and aspirations as a game designer. I met a handful of interesting people, heard their own experiences as developers, and enjoyed good nights nerding out about our personal opinions about the games we loved and hated. I also have had the chance to attend some thought-provoking presentations, including one from our very own ETC professor Jesse Schell, that were deeply insightful and resonated with my own ideals and experience. To top it all off, I've had the chance to reunite with my classmates who were here visiting San Francisco for the conference.
After the conference was over and I was back at my quaint home in Alameda, I sat down for a couple hours organizing my mental notes and thoughts into a cohesive visual poster for the Innovation with Impact event held at Carnegie Mellon's main campus on April 4th. I summarized my conference experience into three primary pillars: 1) Listen, 2) Talk, and 3) Play, with importance in ascending order. 😉
Side note: At the time, I was stuck in a dilemma of whether or not if I should continue pursuing a career in the AAA industry in the traditional sense, or in the tech industry, where there seems to be a lot of cross-overs from video game development. Since then, I have concluded that for the time being I am more inclined to pursue interesting challenges, ones that have not been tackled yet, and for that reason I decided to stay in my current company. Yet, who knows, the game may have just begun.